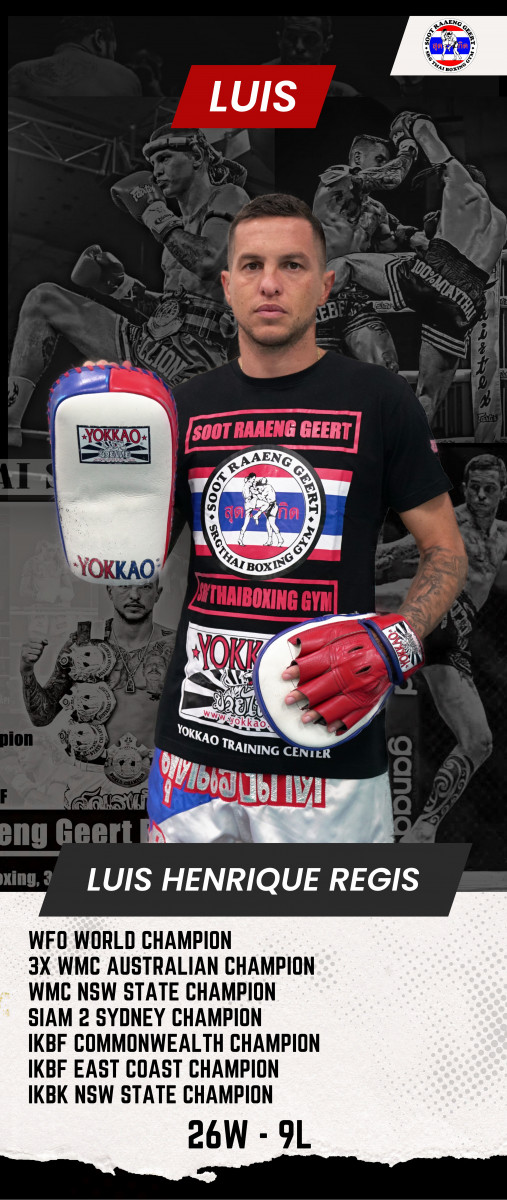 Luis Regis
Fighting name: Luis Soot Raaeng Geert
Fight Record: – 35 Fights 26W 9L 14KO
Luis Henrique Regis, aka Luis "MACACO" Regis is the Founder and main fighter of SRG Thai Boxing Gym. He holds multiple Muay Thai titles such as:
World Champion – WFO
Commonwealth Champion – IKBC
3x Australian Champion – WMC
East Coast Champion – IKBC
NSW Champion – WMC
Real Hero Aus Vs Thai Champion (Australian Team Captain)
Siam 2 Sydney Champion
Luis loves to teach as much he loves to fight. He believes that everyone can get to love Muay Thai, get to have good technique, and that step by step anybody can reach their goals. Luis specialises in the details of every technique always looking to the perfect technique to strike.
Luis continuously travels to Thailand to improve his skills and learn more about this beautiful martial art, and now having all the Thai Trainers at SRG Thai Boxing Gym, he is ready to take you to the next level!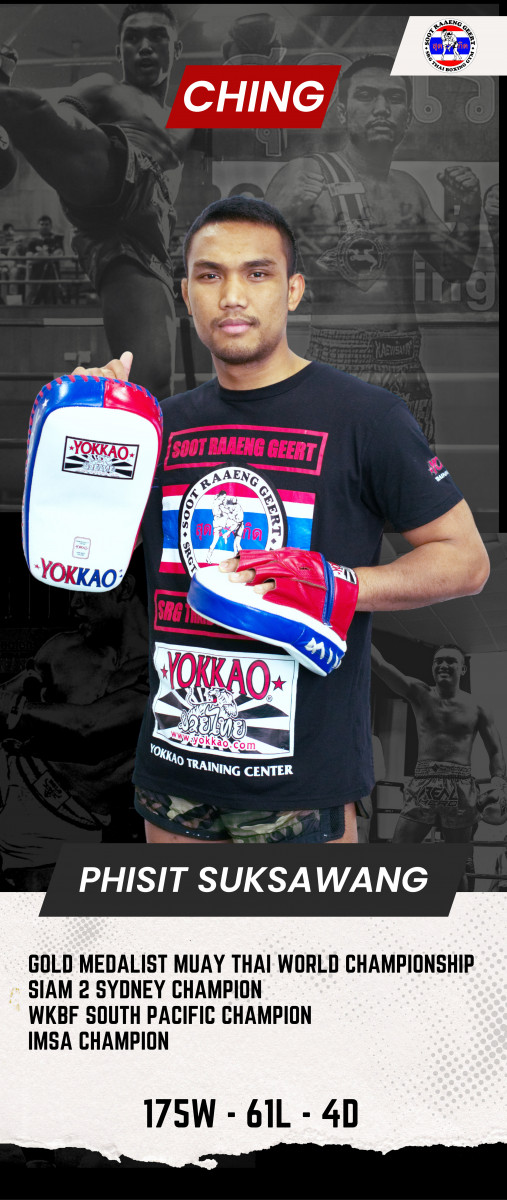 Phisit Suksawang
Fighting name: Ching Soot Raaeng Geert
Fight Record: – 240 Fights 175W 61L 4D
Age: 24
Weight: 67kg – 70kg
Fought at Lumpinee Stadium Rajadamnern Stadium, Chanel 3 and Max Muay Thai stadiums in Thailand.
Bachelor degree of Muay Thai at Muban Chombueng Rajabhat University, Ratchburi
Favourite techniques: Elbow and Leg Kick.
Ching is fluent in English and is a favourite for private classes. If you guys are looking for someone that has attention to small details and can take you to the next level, book a private class with him.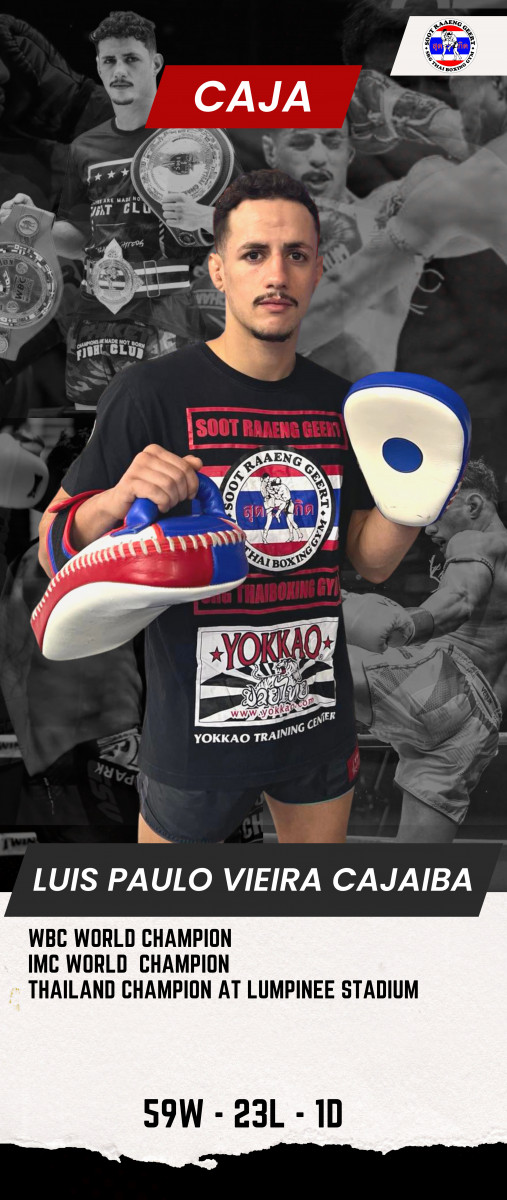 Luis Cajaiba
Fighting name: Luis Soot Raaeng Geert Cajaiba
Fight Record: – 83F 59W 23L 10D
Favourite technique: Clinch
Luis started training Muay Thai back in Brazil when he was 14yo and never stopped. He started his fighting career in Brazil and caught the attention of the head trainer of Phuket fight club. Once invited to move to Phuket to pursuit his dream of becoming a world class fighter, Cajaiba worked relentlessly after his goals and became one of the most popular fighters in Thailand.
In Luis list of achievements there is a WBC World Champion title, IMC World title and Thailand Champion at the prestigious Lumpinee stadium, being the first non-asian to win this title. Luis is also a runner up for the Omnoi stadium title and fought twice for the Lumpinee stadium belt.
As a very experienced fighter and trainer, Luis enjoy giving a lot of emphasis to the fundamentals and ensure all his students leave the classes without questions always prioritizing the basics.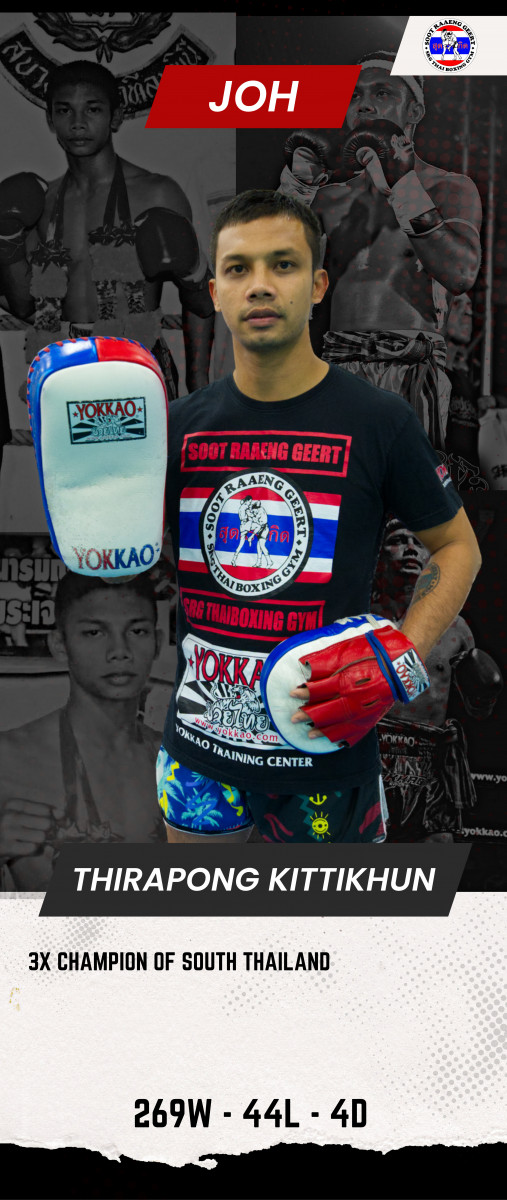 Thiraphong Kittikhun – Joh
Fighting name: Yodthongchai Soot Raaeng Geert
Fight record: 317F 269W 44L 4D
Fighting style: Muay Khao
Favourite technique: Ka Took Tang Khao (clinch and knee)
Titles:
1998 at 10years of Age: Champion of South Thailand 29kg
1999 at 11years of Age: Champion of South Thailand 34kg
2003 at 14years of Age: Champion of South Thailand 47kg
Since 2006 Joh has been present in the list of the Best Fighters of Ptchyindee Promotions, one of the most renowned promoters of the history of Muay Thai. A legend in and out the ring, Yodthongchai – our beloved Joh – joined our family last summer and we fell in love with his work ethic and humble personality at first sight. Joh is an authentic Muay Khao, loves to clinch and does it with expertise. Don't get frustrated if he casually sweeps you with minimum effort; believe us, he does it daily with the most respected fighters in NSW.
Joh doesn't talk much but is incredibly meticulous about his student's technical comprehension. Don't be surprised if you see him standing next to you during a whole class; all he wants is to make sure you will go home with no questions.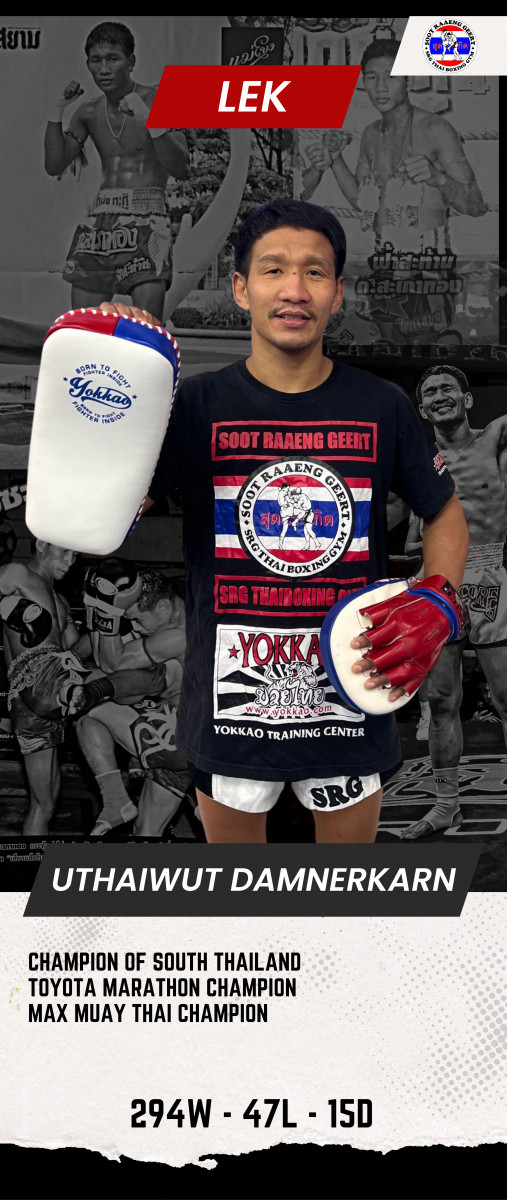 Uthaiwut Damnerkarn
Fighting name: Fahsatan Soot Raaeng Geert
Fight Record: – 357F 295W 47L 15D
Favourite technique: Elbows
Uthaiwut AKA Lek is a world class Muay Khao and fought some of the best Muay Thai fighters from all over the world. With over 30 years of experience between fighting and teaching, Lek hasn't lost the passion for the sport and will always greet our students with a big smile on his face.
Lek is a Champion of South Thailand, Toyota Marathon Champion, Max Muay Thai Champion and most recently won the Muay Thai league title fighting in Australia.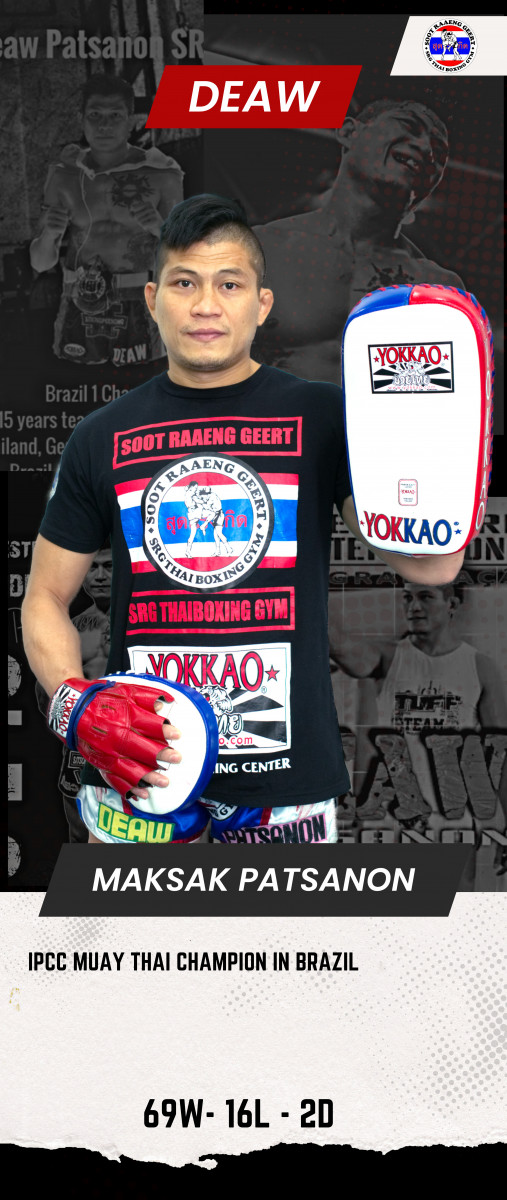 Deaw Patsanon
Fighting name: Deaw Soot Raaeng Geert
Fight Record: – 87 Fights 69W 16L 2D
Achievements fighting: IPCC Muay Thai Champion in Brazil
Achievements as trainer: Started as a Muay Thai Trainer in early 2002 and has ever since been renowned as one of the best in the field. Trainer of one of the Best Nak Muays that ever came out of Thailand, Kem Sitsongpeenong.
Deaw has travelled all around the World and is fluent in English. A favourite of most for Private classes, Deaw has visitors coming from all 4 corners of the globe to train with him.
He has worked in some of the best Gym's around the world, and here are just a few of them:
Thailand: Sitsongpeenong Muay Thai Camp (Bangkok), Tuff Camp, Kem Muay Thai Gym
Singapore: Fightworks Asia Muay Thai Gym
UK: Scorpion Muay Thai
Hong Kong: Hanuman Thai Boxing and Fitness Centre
Germany: Muay Thai School Frankfurt
Malaysia: Combat Sports & Fitness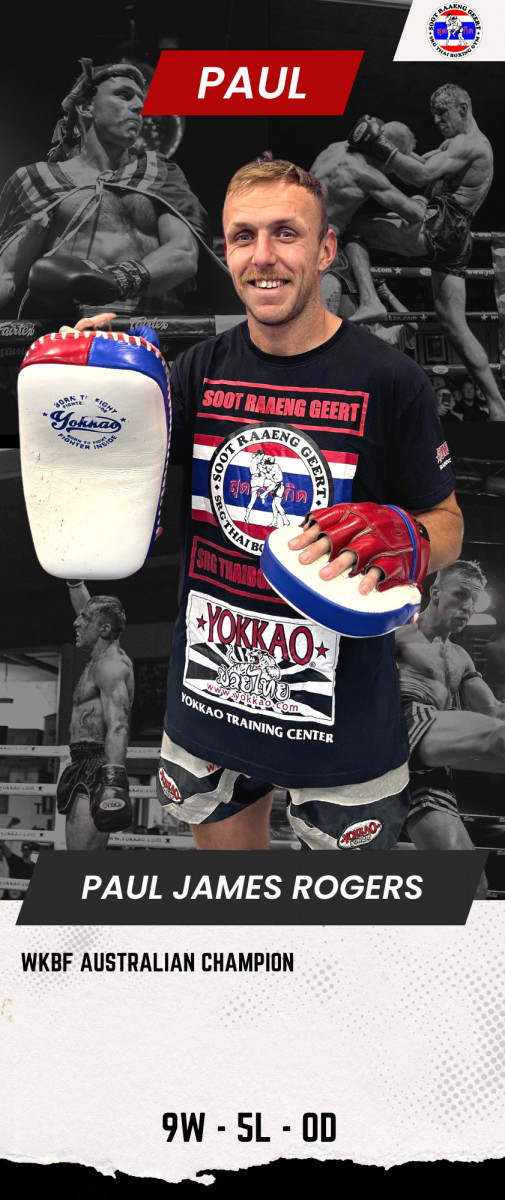 Paul Rogers
Fighting name: Paul Soot Raaeng Geert
Fight Record: – 14 Fights 9W 5L 0D
Achievements fighting: WKBF Australian Champion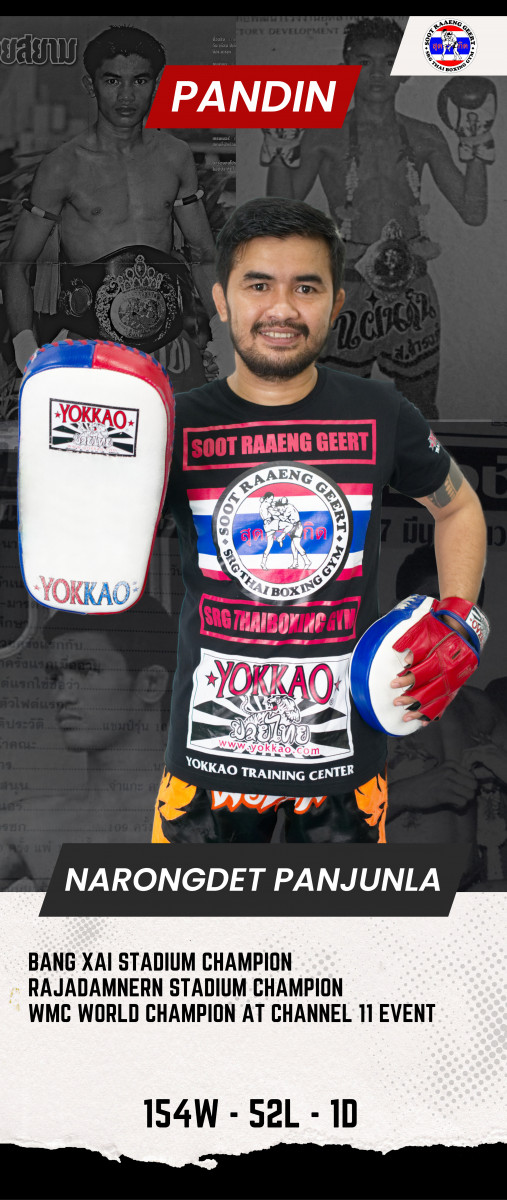 Narongdet Panjunla – Pandin
Fighting name: Pandin Sor.damrongrit
Fight record: 207F 154W 52L 1D
Fighting style: Muay Femur
Favourite technique: Teep (push kick)
Titles:
1992 – 29kg Bang Xai Stadium Champion
1993 – 32kg Bang Xai Stadium Champion
1994 – 35kg Bang Xai Stadium Champion
2003 – 47kg WMC World Champion at Channel 11 event
2004 – 48kg Rajadamnern Stadium Champion
Pandin Soot Raaeng Geert has devoted his life to Muay Thai and now shares his experience with his students at SRG. He is an old school trainer who will push you to do your best at every Muay Thai session. Pandin came to Australia for the first time in 2015 and his students haven't rested easy for a single day until his comeback earlier this year. His work ethic combined with his passion for Muay Thai makes him one of a kind.
Sign up for a free session
Come and experience your first training session for free! Enter your details and one of our friendly staff will contact you soon to arrange a time.